Connecting the LEXICON to Master's in Choreography
Amanda Steggell is a Professor of Choreography at Oslo National Academy of Art and project leader of AMPHIBIOUS TRILOGIES project. As part of ongoing collaboration between AMPHIBIOUS TRILOGIES and FUEL4DESIGN: Future Education and Literacy for Designers, these series of workshops aimed to contribute to the DESIGN FUTURES LEXICON with movement words, called FUTURES DESIGN MOVEMENTS WORDS. 
Prof. Steggell held the three workshops with her Master students in choreography at Oslo National Academy of the Arts (KHiO). The workshops were designed as an experiment to elicit engaged responses to the masters spring course, with a special focus on project descriptions. The workshop was online and held synchronously over ZOOM. 
The workshops aimed to engage the master students through FUTURES DESIGN MOVEMENTS WORDS and look at how the student participants can contribute with more moving words. In this post we summarise how choreography students approached this through DESIGN FUTURES LEXICON activities and resources and applied it to their discipline of Choreography.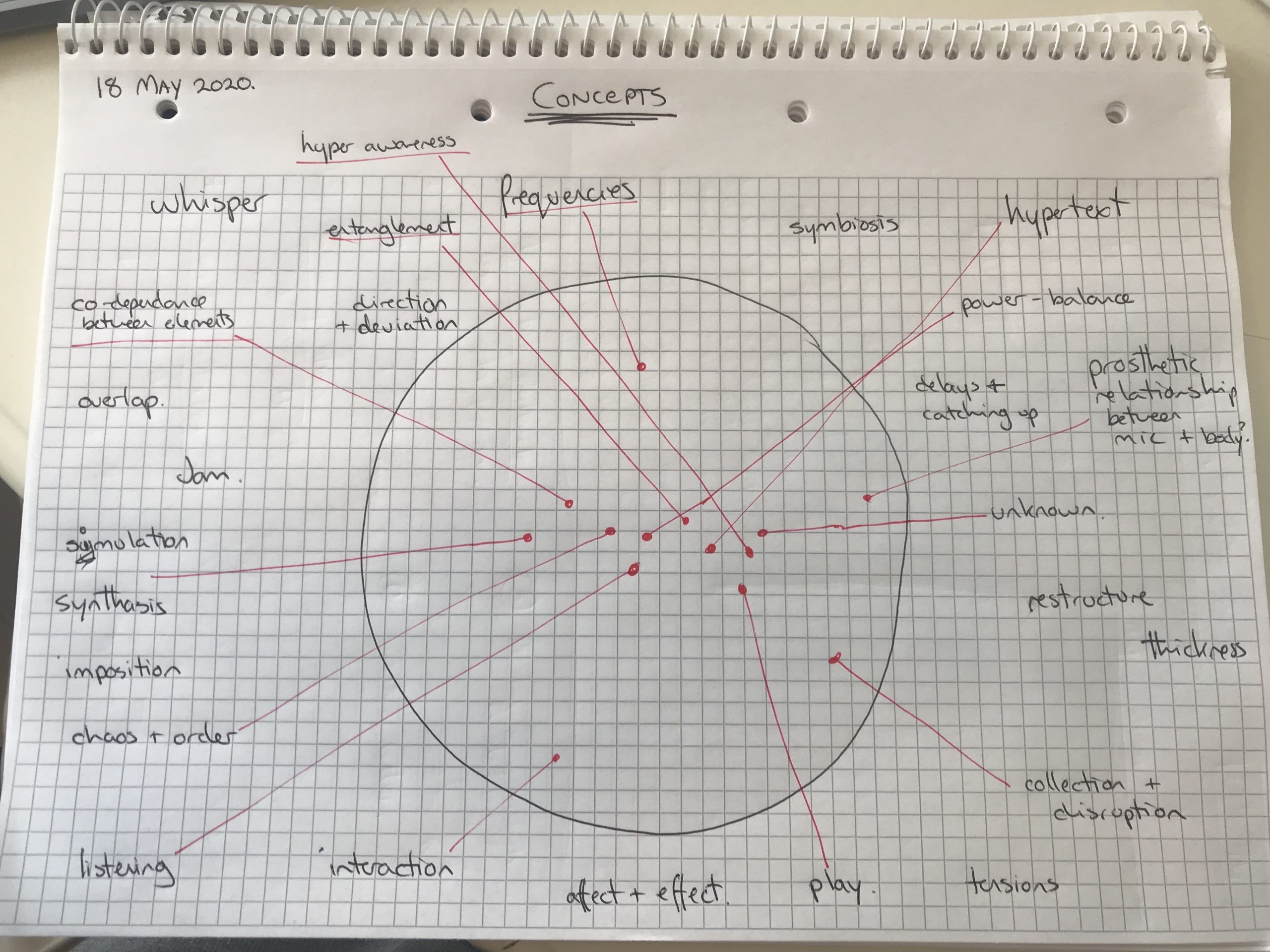 A map of concepts made as part of the student participant's reflection and analysis after the workshops. The student participant  made the map as a way to tidy up and gather words for their project description. Photo Lisa Colette Bysheim
Workshop #1 Moving with verbs
Moving with Verbs, Master's Workshop #1
KHiO, 27 April 2020
Teacher and facilitator: Prof. Amanda Steggell
As Prof. Steggell's notes in her blog post 'this workshop is an experiment to elicit engaged responses to the masters spring course, with a special focus on project descriptions. Words matter in choreographic ideation and communication. Working with words as material provides fuel for co-creative research in the making.'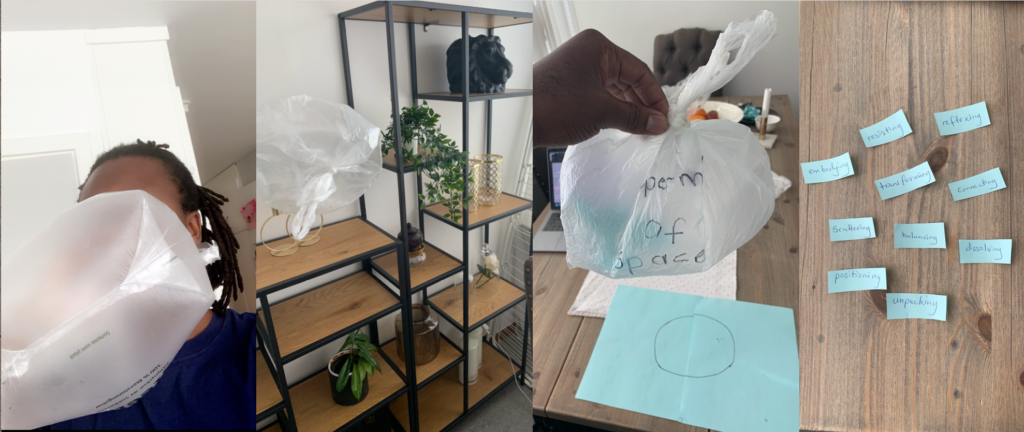 A series of images from the second Master's workshop over zoom, at Oslo National Academy of the Arts. The images show how choreography students used plastic bags to imitate a balloon and used other materials at home for this remotely held workshop. Photo Tendai Malvine Makurumbandi
Ballusion! Pop the future, Master's Workshop #2
KHiO, 4 May 2020
Teacher and facilitator: Prof. Amanda Steggell
This workshop looked at the use of words and Prof. Steggel notes in her blog post 'how we think, move and make metaphors that may shape our futures choreographic projects. To do this we draw on the notion of BALLUSION, a made up word to create a design futures metaphor. It conjoins Balloon and Illusion. The future may be inflated, or expanded. The future may be a faction (blending fact and fiction) or an illusion. It may be a mix of these.'
Workshop #3: OCTOPA's Toolkit: Voicing the future through personas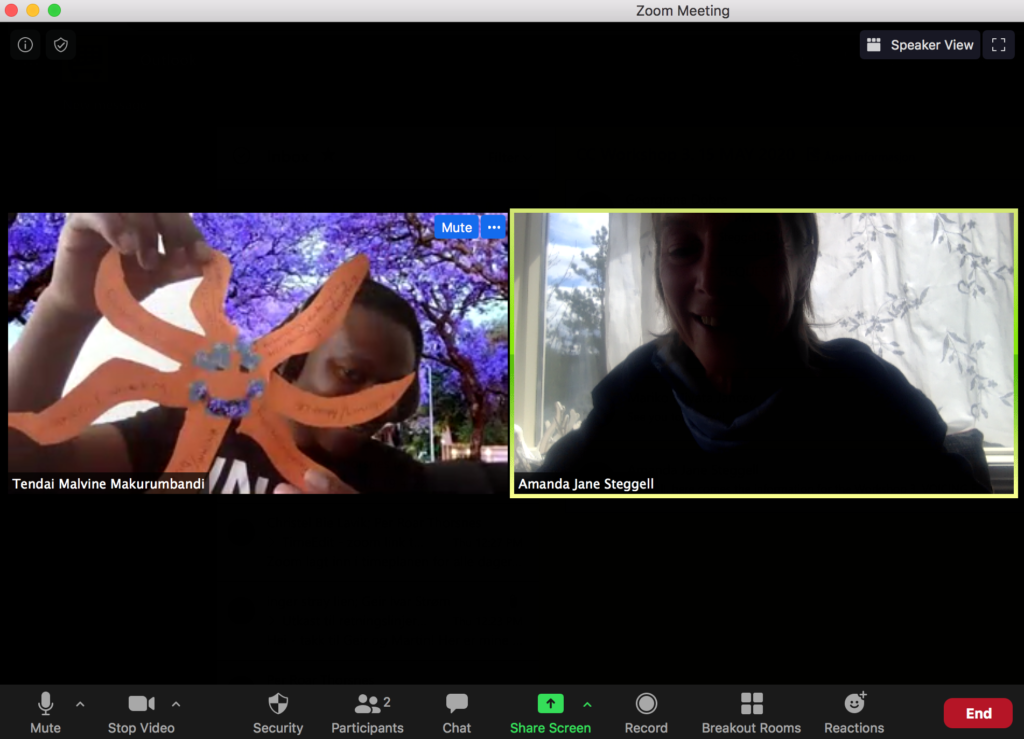 A screenshot of the third Master's workshop over Zoom, at Oslo National Academy of the Arts, showing how the choreography students engaged with the workshop using paper cut outs and other materials at home for this remotely held workshop. Photo Amanda Steggell
Master's Workshop #3
KHiO, 15 May 2020
Teacher and facilitator: Prof. Amanda Steggell
For the third workshop, Prof. Steggell took up work that began in the previous years on OCTOPA. As she notes in her blog post, 'this time the focus was on using design futures words and language and movement vocabularies to engage with the persona and by extension in her travels in OCTOPA's JOURNEY.'