PhD researchers in Design often face challenges about how to select and position transdisciplinary vocabularies that are suited to their specific project as well as the changing character of their design domain areas. This is also quite a task when a practice-based doctorate needs to engage in future related inquiry and scales of the possible, probable, projected and putative. 
The FUEL4DESIGN project's LEXICON looks specifically and design futures literacies in terms of their vocabularies, ranging from frameworks for semantic positioning of terms through to definitions of key design futures concepts and off-beat, playful and even provocative neologisms.
These were introduced to the bi-annual PhD Summer School hosted by the Nordic design research organisation called NORDES. AHO has been an active member of the organisation and its conferences and PhD Schools since its inauguration in 2005
The NORDES Summer School 2020
The NORDES Summer School 2020 was a 3-day online event held on 5-7 August 2020, hosted by AHO and OsloMet in Norway. With the focus on 'designing beyond the individual', the summer school explored how the theme of COLLECTIVES may "inform design inquiry in shaping futures that are shared and honed for common interests, needs and purposes, not only competitive and collaborative ones."
The summer school was open and free for doctoral candidates with an overall aim to inform and strengthen understanding of the collective in their doctoral inquiries, with a specific emphasis on "examining and elaborating on related actions and methods, and situating the challenges and potentials for designing and researching design for shared and sustainable survival, via creativity with critique."
During the summer school, a two hour activity called 'Languaging collective futures' was presented and facilitated by Andrew and Palak. As facilitators, our view on this activity was to bring forth the potentiality of words and how they open possibilities for 'futuring'. These issues were taken up across the three day session. The overall aim of our activity within the workshop was to relate to the language of collectives based on FUEL4DESIGN Lexicon. 
During the first day of the summer school, participants discussed and identified key issues raised by readings on COLLECTIVES, the differences, similarities, and questions. They visually mapped some of the connections between identified issues in the literature, highlighted connections between key issues, philosophical positions, contexts, and actors.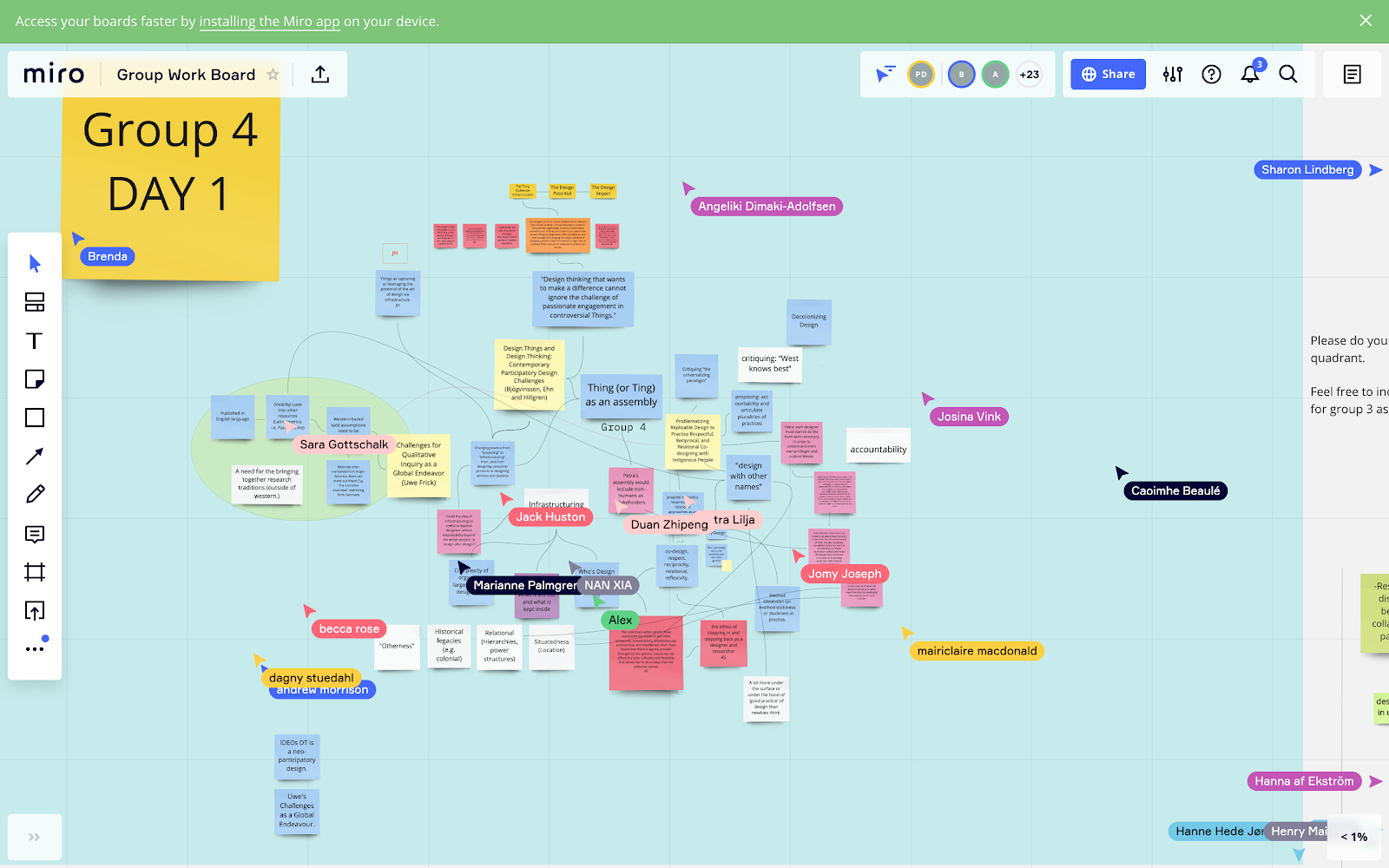 Day 1. Literature mapping by group 4.
The participants worked on positioning their own projects on the second day of the summer school. They connected the dots of personal projects and focussed on how their project related to the theme of collectives with regards to research questions, theoretical frameworks, methodology, and socio-political context.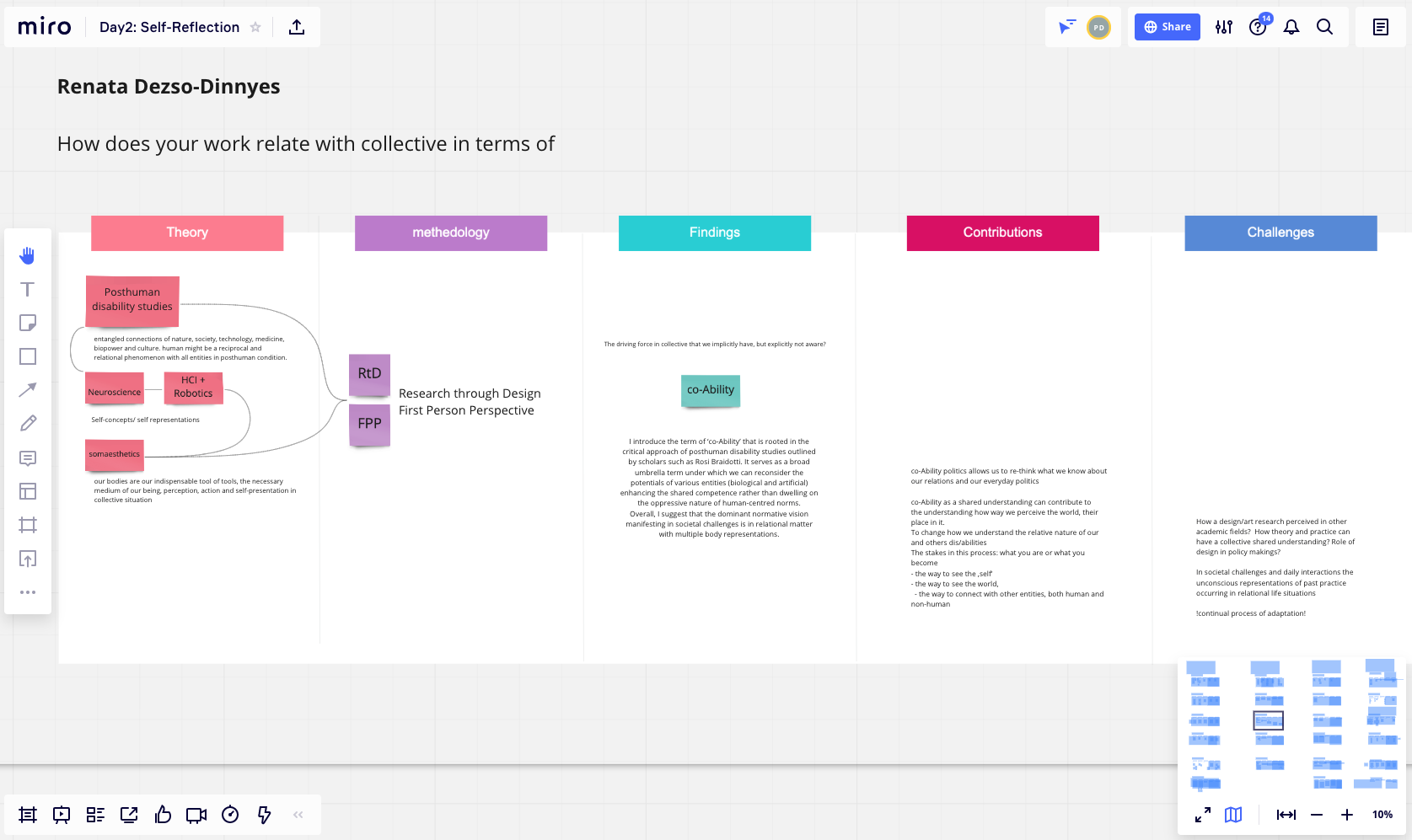 A snapshot of Day 2. Individual reflection on the theme of collectives, in relation to the research questions, theoretical frameworks, methodology, and socio-political context.
Our activity focusing on LEXICON took place on the second day. Through the group activities throughout the days, participants collected a list of terms which would be put into focus during this activity. After bringing attention to the words, the participants were given the task to play the REFLEXICON game. 
Here are a number of comments from PhD participants:
A selection of discussions and reflections by PhD  participants.
The third and last day culminated with focusing on writing and crafting contributions. Here the participants articulated and proposed paper ideas of the conference, collectively writing and producing a summary as an encouragement to continue developing the paper for conference submission. 
All in all, this summer school was a very lively event, collective and individually, covering a range of modes of communication and engagement. We hope the material shared here might inspire others to take up some of the resources in the LEXICON, individually, in shared research production and projects, and in other areas of PhD education.
On that score, a lecture on the LEXICON on the topic 'Reflexicon: designing with future terms' had previously been given by Andrew on 26 June 2020 to the PhD school hosted by our project partner PoliMi entitled Designing in Transitional Times. Experiments for futures(s) imagination, 22-26 June 2020. See: PhD programme in Design at PoliMi