It's been wonderful to begin on the project formally as a whole group again after having met and worked so well together in developing the application and been eager to meet in person since its award. 
We held our Kick Off Meeting as planned at AHO on 14-15 October 2109. We brought together representatives of all the four partners. The team consisted of design-educator-researchers and research administrative staff from the Oslo School of Architecture and Design (NO), Politecnico di Milano (IT), University of the Arts London (UK), and ELISAVA (ES). 
As mentioned on the home page of our project website, the basic intention of the F4D project is to connect emerging issues of design futures literacies for design teachers and students at Master's and doctoral levels. These innovations are extended to other professionals (designers, futurist foresight experts, innovation specialists), educational organisations and to policymakers in education, research and culture, education governmental departments, design councils, innovation agencies and civil society organisations.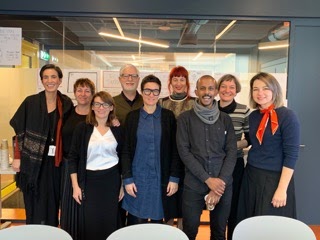 FUEL4DESIGN. Kick Off Transnational Meeting, Oslo 14-15 October 2019. 
From left: Miriam El Moussaoui (AHO), Laurua Cleriès (ELISAVA), Manuela Celi (PoliMi), Andrew Morrison (AHO), Chiara Colombi (PoliMi), Betti Marenko (UAL), Pras Gunasekera (UAL), Silke Lange (UAL), Jerneja Rebernak (UAL). Photo Prof. Rachel Troye (Head Institute of Design AHO, Pro-Rector AHO).
The meeting established its main goals and provided a space for members to engage with one another and become more familiar with the groups' specialisms, interests and expertise. This was primed by the content of the 3rd International Conference on Anticipation at AHO that immediately preceded the meeting and at which several partners presented related papers and sessions. With confirmation of our project's contract all signed we discussed some of the shared interests and wishes, as well as outlines for IO1 DESIGN FUTURES LEXICON and IO2 PHILOSOPHICAL PILLS. 
In the following months, collaboration with a diversity of teachers and different modes of making, relating and inquiry would be carried out at AHO. UAL would devise related co-design type workshops. A meeting in London was scheduled for October.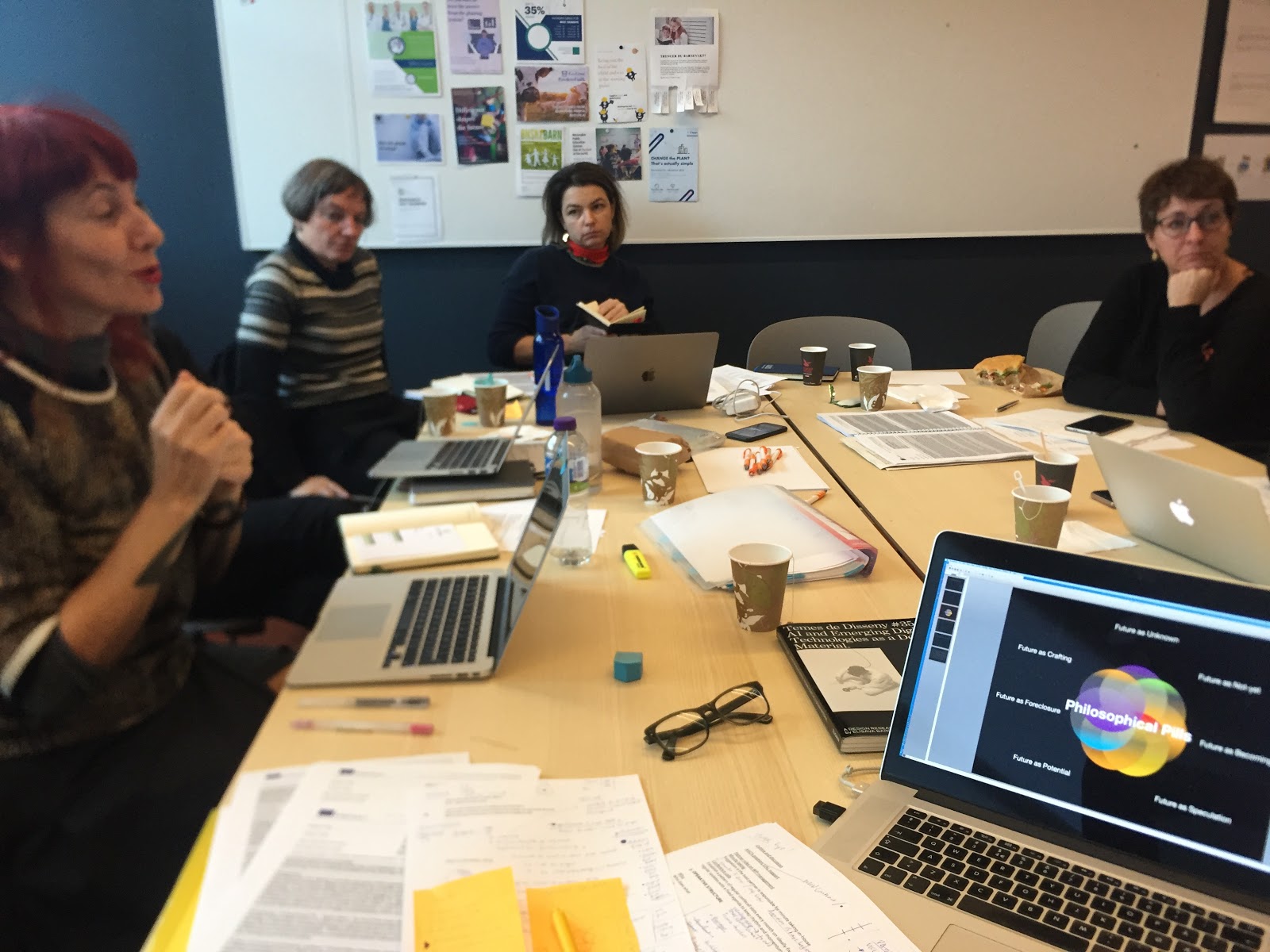 Betti Marenko from UAL presenting plans for IO2 Philosophical Pills. Photo Andrew Morrison
We foresaw that our Advisory Board would need to be used selectively and transversally in and between IOs. Physical visits were also seen as central to shared project events and in the ongoing function of the experts. Open access and distribution matters were positively addressed as was pre-planning.
The second half-day included discussion of IOs 1 and 2 and DFL. Experiences in related projects were shared and discussion covered thinking into the futures of the project philosophically in locating its world views.
We agreed that we had embarked on an ambitious project but with a lively and committed team with its eyes set on very real, imaginary and motivating ventures into shaping and changing design futures literacies – and thereby adding fuel to action, critique and change in design education.