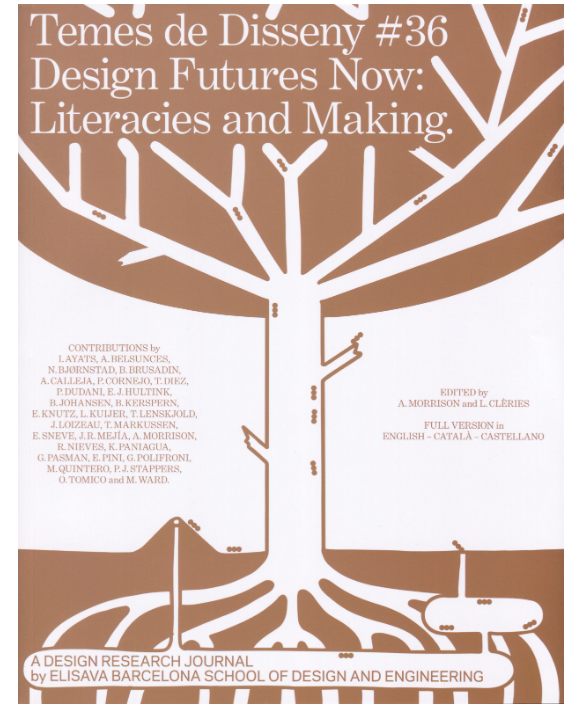 Screenshot of the cover of Temes de Disseny #36 journal
We are pleased to announce that a special guest issue of the open access, multilingual design journal Temes de disseny has been published on the topic 'Design Futures Now: Literacies and Making'. The central aim is to address design's roles in shaping futures by modes of making and analysis for alternate presents and emergent futures. Edited by two of the leaders of Intellectual Outputs in FUEL4DESIGN (Andrew Morrison and Laura Cleriès), this special issue covers a medley of matters in the form of full articles, cases and pictorials. 
From FUEL4DESIGN, there are two peer reviewed research contributions: an original article from AHO relating to IO1 Design Futures Lexicon and a pictorial for IO3 Design Futures Scouting:
Lexicons, Literacies and Design Futures
By Andrew Morrison, Nina Bjørnstad, Einar Sneve Martinussen, Bjørn Johansen, Bastien Kerspern & Palak Dudani (pp. 114-119), and

Exploring Weak Signals to Design and Prototype for Emergent Futures
By Tomas Diez, Oscar Tomico & Mariana Quintero (pp. 70-89).
Our Editorial on 'Design Futures Now: Literacies & Making' and access to content and to the PDF of whole special issue are part of ELISAVA's open access publishing policy and design infused mediation of design inquiry as well as FUEL4DESIGN's open access publication direction. 
The special issue was presented by the guest editors along with Oscar Tomico, (co-editor in chief) and Guim Espelt (managing editor) at an evening online launch event in Zoom.