Design literacies, creative writing and research futures 
Part of the work in the LEXICON has been carried out in a three way collaboration between AHO, our project designer Bastien Kerspern of Design Friction design studio in France and Prof Amanda Steggell of KHiO, the Oslo National Academy of the Arts In Oslo. This work was centred on connecting the futures facing terms and contexts of the LEXICON to matters and contexts of movement in our joint membership in the Amphibious Trilogies, a project that is led by Amanda, based at KHiO, under the National Artistic Research Programme (NARP) in Norway. 
In this partnership, one interest has been on developing inputs and uses of futures words and settings and dynamics in which they may be seen as relating to movement as shown in the Lexicon UNIT 2.6 FUTURES DESIGN AND MOVEMENT and the related FUTURES DESIGN MOVEMENT WORDS. 
A second interest has been to delve into ways in which futures design literacies may be elaborated and situated critically in terms of the context and environments in which they are cast, crafted and communicated. This is central to how the LEXICON relates to the intentions and activities of the project's FUTURE PHILOSOPHICAL PILLS. 
A third interest, and that covered more fully here, has been to explore ways futures design and language may be linked with the design fiction, scenarios, personas and movement. This has principally been realised through our design fiction persona OCTOPA and her travels in relation to the Northern Sea Route. Our design fiction device OCTOPA's JOURNEY provides a satirical gameplay for users.
The LEXICON addresses design futures literacies for master's and doctoral students in design. In this regard I was invited by Prof Ingrid Halland at the Institute of Design at AHO. Prof. Halland works specifically to support AHO's PhD Programme, to contribute a lecture on research and creative writing to a PhD class joined with an elective for master's students as part of a lecture series entitled ´Objects of Research'. 
In making a presentation and inviting discussion on OCTOPA's JOURNEY in particular, I was fortunate to follow the very carefully positioned work by Anne Kockelkorn, co-director of the Master of Advanced Studies in History and Theory of Architecture, ETH Zurich.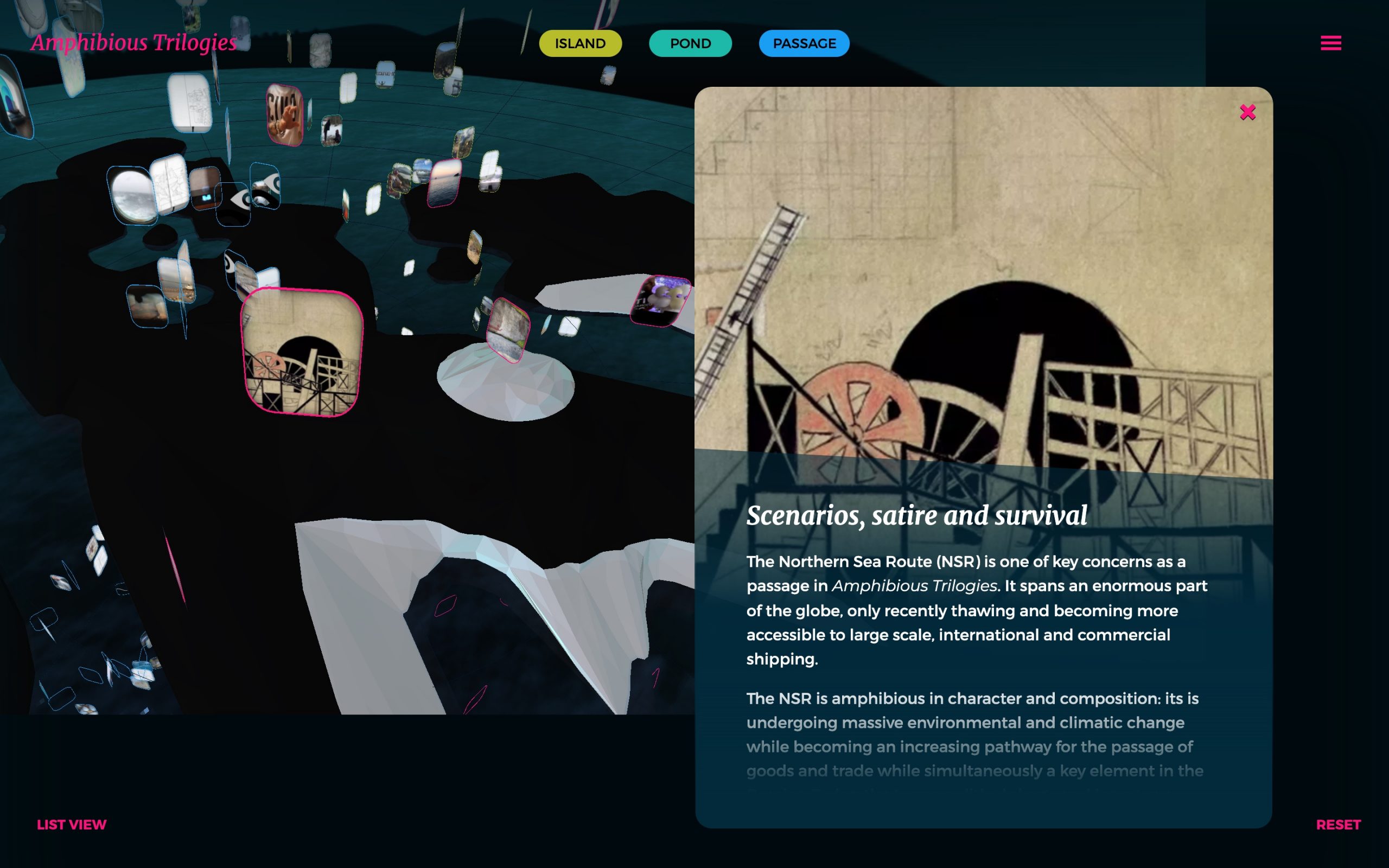 That last post noted that:
With OCTOPA and the 28 scenarios we co-devised, we wanted to escape ghosts and monstrous sea creatures. Instead, the being of a multi-brained, many armed and shape shifting character would demand of us similar tenacity, regenerative acts, distributed and connected thinking and an ability to move amphibiously, literally and physically.
One is increasingly asked for independent feedback on educational interventions and pedagogies, so i offer this extract from a mail from Ingrid that was referring to the projects' material more broadly on design fiction, OCTOPA and the cross over between the FUEL4DESIGN and Amphibious Trilogies: 
Andrew, your post was absolutely amazing! You went through so many of the aspects and dilemmas that we will discuss throughout the semester. Everyone in the room continued to talk 20 minutes after you logged out of Zoom, because the discussion was so exciting.

I'm glad to hear you're working in a pretty radical way. I especially liked your comment "all research is fiction".
I had said this wryly, in the spirit of working with pastiche, satire and a gameplay 'logic' to propose, promote, provoke and project questions through design fiction. I also alluded to the ways in which research is always rhetorical, in its persuasive and argumentative forms and means as well as in its processes of making and remaking.
In times of institutional, presidential and ideological fake news, and strategising – whether in geo-politics or in terms of race and the decolonising of media, design, language and literacies – this needed saying so. This was because the regenerative, reflexive, critical and pragmatist gendered characteristics, dynamic and knowledge devising OCTOPA allows would not be misread. It was also a point to address where some critics of design fiction parse it's purposes too literally as not able to solve functionalist needs. Conversely, as almost baroque like device, exceedings her physical form. OCTOPA challenges us to think and to connect and to distinguish words and movement in complex contexts of ahange  that need our design futures imaginary literacies motivation and articulations.
Design fiction in our experience does have a productive communicative and conceptual place in the languaging and imaging, play and movement involved in negotiating the complexities and framing of the Northern Sea Route. That is a passage in itself that is a cipher for the mental and culturally changing constructs we encounter in design futures literacies, climate change and the Anthropocene.  
As was noted by one of the PhD students to the session, this is as much a material, melting and increasingly kinetic passage of terms and views needing to be addressed in acts of decolonising design and prospecting design futures in and as design futures literacies.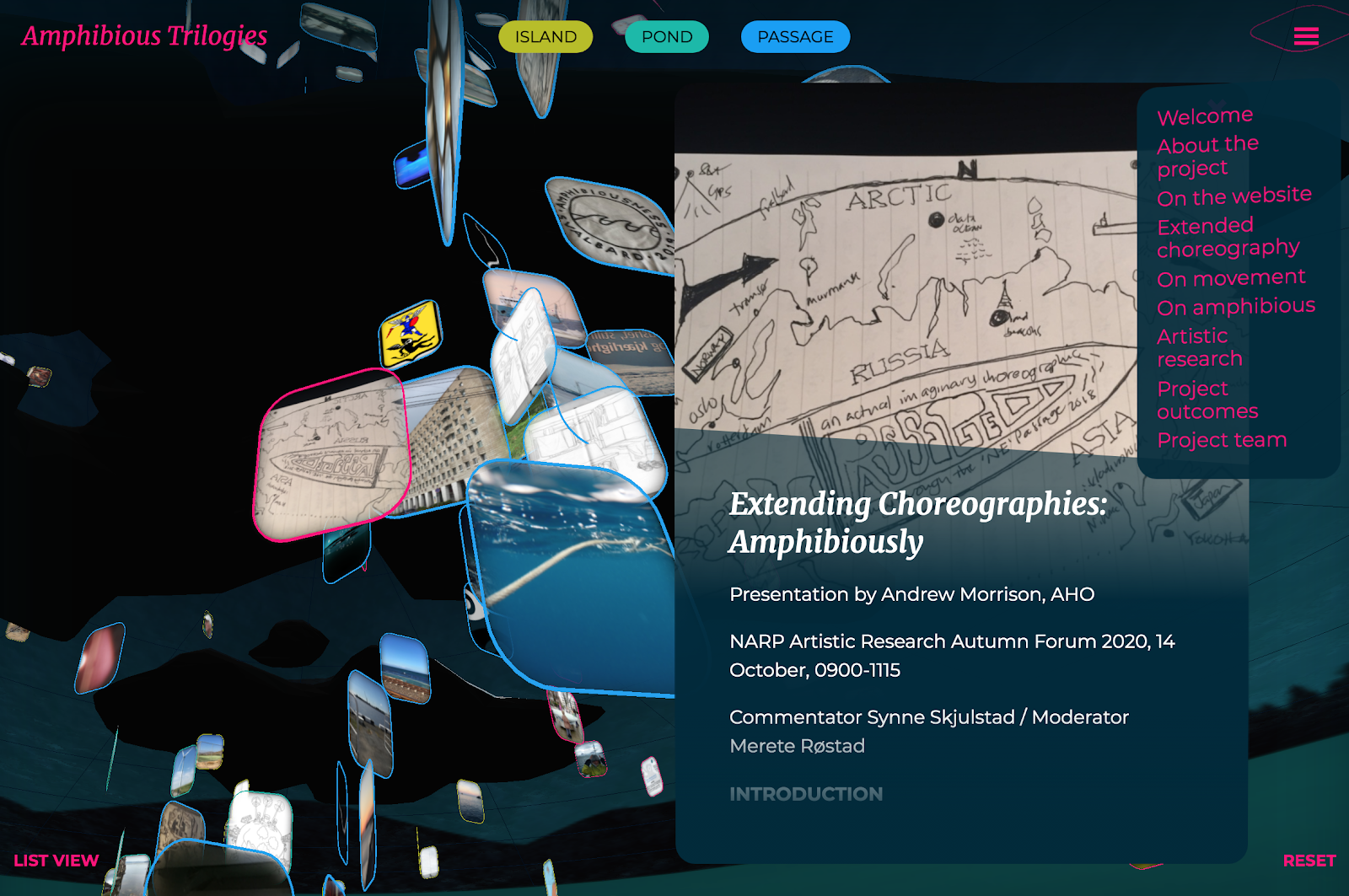 This I took up in a LEXICON and FUEL4DESIGN contribution to a final research presentation to the NARP Artistic Research Autumn Forum 2020 on behalf of Amphibious Trilogies. The presentation drew on my extended links to the project through the LEXICON and to the role design fiction may be seen to have in working with futures vocabularies, narrative and creative and critical expression and articulation. An outline of my talk entitled Extending Choreographies Amphibiously may be followed through a set of slides.
Interestingly, these slides were auto generated by WordPress by way of a set of links assembled from the project website as part of the personal-computational in design futures literacies. They were a reminder of the computational alexicograhic experience I'd had earlier in my career as an applied linguist, discourse analyst, media and education teacher and researcher.