The Road-maps are a set of "Maps" and "paths" to help educators in navigating through the eleven Units. These maps are meant to be used as suggestive paths rather than prescriptive ones. The basic concept behind these units is to be independent (yet connected). Educators are free to select the suitable units to their courses, put them together and structure their pedagogical paths based on their needs as well as the context of use .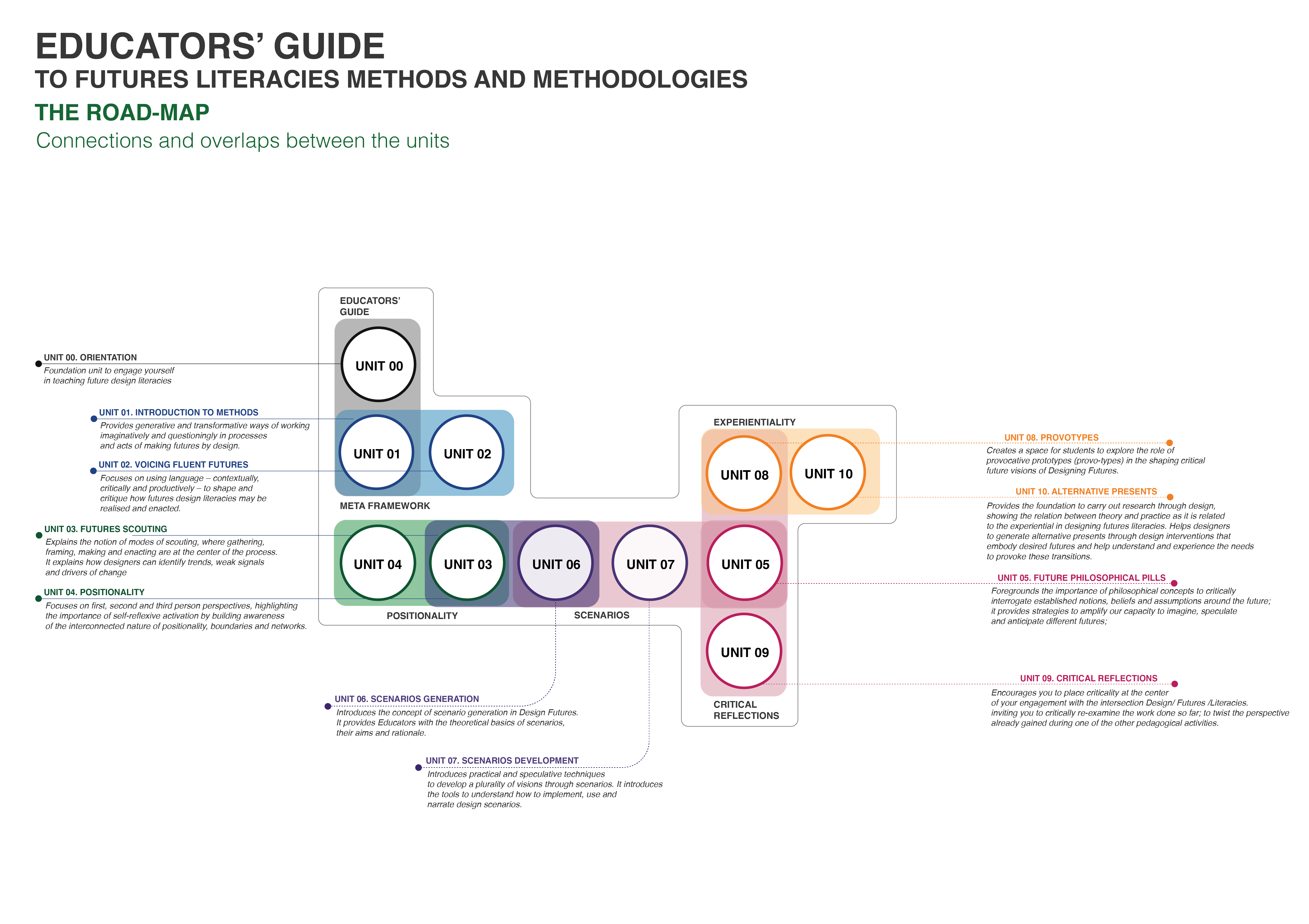 UNIT 00. ORIENTATION
Foundation unit to engage yourself in teaching future design literacies
UNIT 01. INTRODUCTION TO METHODS
Provides generative and transformative ways of working imaginatively and questioningly in processes and acts of making futures by design.
UNIT 02. VOICING FLUENT FUTURES
Focuses on using language – contextually, critically and productively – to shape and critique how futures design literacies may be realised and enacted.
UNIT 03. FUTURES SCOUTING
Explains the notion of modes of scouting, where gathering, framing, making and enacting are at the center of the process. It explains how designers can identify trends, weak signals and drivers of change
UNIT 04. POSITIONALITY
Focuses on first, second and third person perspectives, highlighting the importance of self-reflexive activation by building awareness of the interconnected nature of positionality, boundaries and networks.
UNIT 05. FUTURE PHILOSOPHICAL PILLS
Foregrounds the importance of philosophical concepts to critically interrogate established notions, beliefs and assumptions around the future; it provides strategies to amplify our capacity to imagine, speculate and anticipate different futures;
UNIT 06. SCENARIOS GENERATION
Introduces the concept of scenario generation in Design Futures. It provides Educators with the theoretical basics of scenarios, their aims and rationale.
UNIT 07. SCENARIOS DEVELOPMENT
Introduces practical and speculative techniques to develop a plurality of visions through scenarios. It introduces the tools to understand how to implement, use and narrate design scenarios
UNIT 08. PROVOTYPES
Creates a space for students to explore the role of provocative prototypes (provo-types) in the shaping critical future visions of Designing Futures.
UNIT 09. CRITICAL REFLECTIONS
Encourages you to place criticality at the center of your engagement with the intersection Design/ Futures /Literacies. inviting you to critically re-examine the work done so far; to twist the perspective already gained during one of the other pedagogical activities.
UNIT 10. ALTERNATIVE PRESENTS
Provides the foundation to carry out research through design, showing the relation between theory and practice as it is related to the experiential in designing futures literacies. Helps designers to generate alternative presents through design interventions that embody desired futures and help understand and experience the needs to provoke these transitions.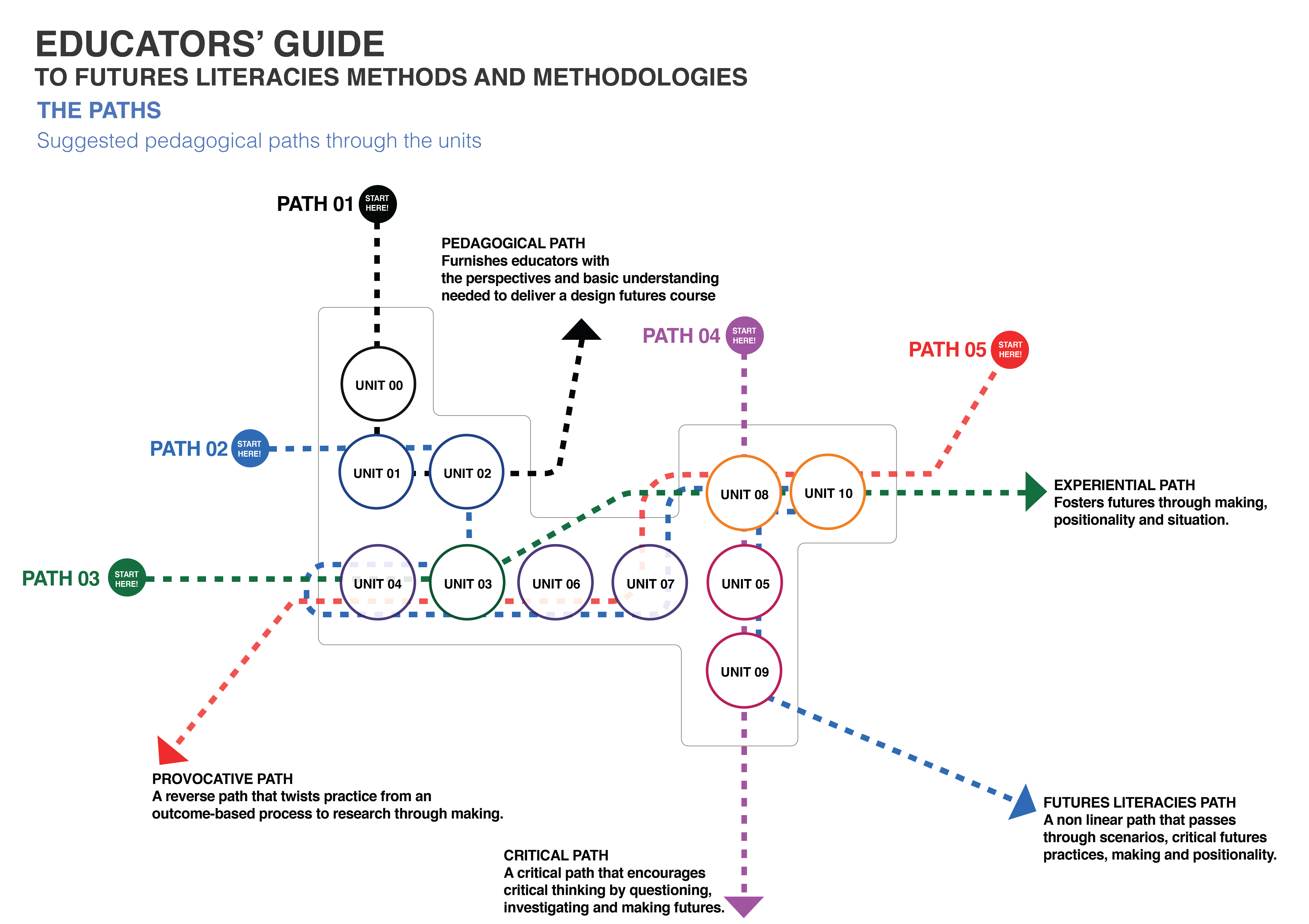 PATH 01 : PEDAGOGICAL PATH
Furnishes educators with the perspectives and basic understanding needed to deliver a design futures course
PATH 02 : FUTURES LITERACIES PATH
A non linear path that passes through scenarios, critical futures practices, making and positionality.
PATH 03 : EXPERIENTIAL PATH
Fosters futures through making, positionality and situation.
PATH 04 : CRITICAL PATH
A critical path that encourages critical thinking by questioning, investigating and making futures.
PATH 05 : Provocative Path
A reverse path that twists practice from an outcome-based process to research through making.